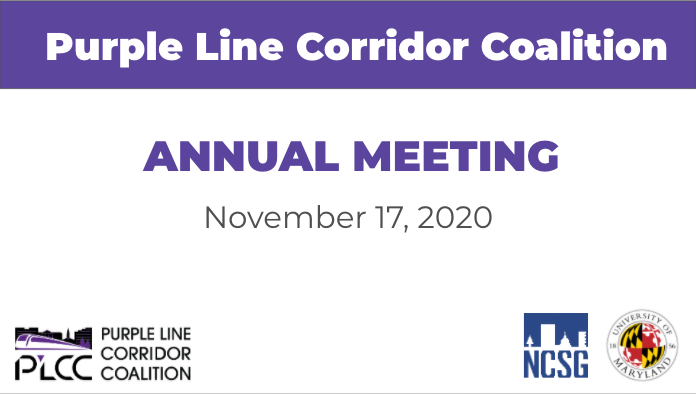 PLCC 2020 Annual Meeting Recap
PLCC held a successful annual meeting on November 17, 2020, with over 130 people in attendance. We heard from elected officials, local residents and business owners, nonprofit service providers and more about how we can continue working together to make the Purple Line a place of equity and opportunity after an incredibly challenging year.
We left the meeting energized and optimistic about what we can make happen in 2021.
In case you missed it, feel free to check out slides and watch segments of the meeting below
And please be sure to check out PLCC's 2020 progress report, which includes much more detail about coalition work along the corridor!
WATCH the full meeting here. Time marks below:
00:00:12 – Welcome remarks from Maryland State Delegate Jheanelle Wilkins
00:03:15 — Welcome remarks from Prince George's County Councilmember Deni Taveras
00:07:18 – Purple Line: Where are we? Where are we headed? Gerrit Knaap, Director, National Center for Smart Growth and Co-chair, PLCC Steering Committee; Sheila Somashekhar, PLCC Director
00:22:37 – Remarks from Isaías Portillo, Resident of the corridor and grassroots activist
00:26:52 – Panel: Forging ahead in challenging times: action along the corridor. Panelists included:
– Marla Bilonick, Executive Director and CEO, Latino Economic Development Corporation
– Jorge Benitez-Perez, Organizer, CASA
– Pat Parker, Executive Director, Central Kenilworth Revitalization Corporation
– Lisa Butler McDougal, President, Sowing Empowerment & Economic Development, Inc. (SEED)
– Moderator: David Bowers, Vice President and Mid-Atlantic Market Leader, Enterprise Community Partners
01:09:45 – Remarks, Lene Tsegaye, owner of Kefa Café
1:19 – Key Elements of National Center for Smart Growth's FTA/MTA grant and breakout discussion takeaways
1:38 – Closing remarks from Prince George's County Council Member Dannielle Glaros