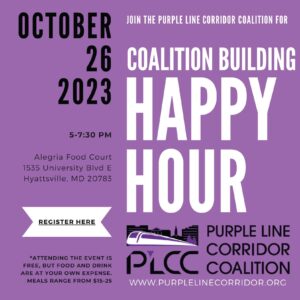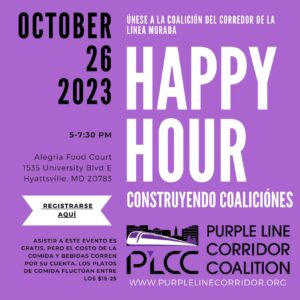 Time: October 26, 2023, 5-7:30 PM
PLCC Happy Hour
Join the Purple Line Corridor Coalition for a fall happy hour! This is an informal opportunity to connect in-person with organizations, agencies, and neighbors working for equitable change in Purple Line communities. We're hoping to use this opportunity to expand our network, so please bring a friend or colleague who might be interested in joining the PLCC network!
Please register by Friday, October 20 so that we can give the restaurant an accurate headcount.
What? Happy hour with PLCC*
When? October 26 from 5-7:30 PM
Where? Alegria Food Court, 1535 University Blvd E, Langley Park, MD
*Attending the event is free, but food and drink are at your own expense. Meals range from $15-25
Happy Hour del PLCC
Acompañe a la Coalición del Corredor de la Línea Morada (PLCC) para un Happy Hour este otoño. Esta es una oportunidad informal para conectarse en persona con organizaciones, agencias, y vecinos que trabajan por lograr cambios equitativos en las comunidades de la Línea Morada. Esperamos usar esta oportunidad para expandir nuestra red, por eso invite a un amigo o colega que pueda estar interesado en unirse a la red de PLCC.
Favor de registrarse antes del viernes, 20 de octubre para darle al restaurante el número exacto de asistentes.
¿Qué? Happy Hour con el PLCC*
¿Cuándo? 26 de octubre de 5 a 7:30 pm
¿Dónde? Alegria Food Court, 1535 University Blvd. E., Langley Park, MD
*Asistir a este evento es gratis, pero el costo de la comida y bebidas corren por su cuenta. Los platos de comida fluctúan entre los $15-25
Read More